After getting positive feedback from doing a themed Pinterest post
last Wednesday, I'm back with a new theme today :)
.
Today it's all about wedges.
I don't wear heels too often (I probably should being only 5 feet tall & all...)
but when I do, I prefer a wedge. They're easier for me to
walk in and I love the way they look!
.


7, 9 & 11 are my favorites, but I'll admit that
I wouldn't complain if I woke up and had any of these in my closet...

Do you go wild over wedges?!
Or are you more of a stiletto kind of girl?
.


Linking up with the oh, so lovely
Michelle
for Oh, How Pinteresting!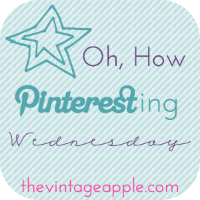 Like what you see here?
You can find all of my pin boards right
here
:)