Happy Wednesday!
to share my top 10 pins from the week :)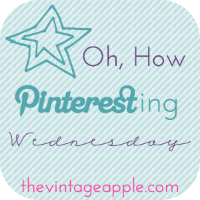 I'm trying to decided if I like just posting 10 random pins
or
if I should start striving to post 10 pins that all share the same theme.
What do you guys think?
Today...random it is :)
one.
Love that heart shaped belt buckle!
two.
I'm convinced that I would cook more if my kitchen looked like this.
three.
Perfect spring outfit! The only thing I'd change would be to swap out
the aviator glasses for some Raybans :)
four.
This would be an awesome backdrop for an outfit photo shoot!
five.
Cute & comfy...I dig!
six.
Hilarious!
seven.
Can I get an amen?!
eight.
So fun & so delicious!
nine.
Can I have a nail polish in every one of these colors?
ten.
Brick wall is an obvious love.
I also love her hair, outfit & statement necklace!
My goal is to be bold enough to wear statement necklaces this season.
Like what I've pinned?!
You can find my pin boards
here
.
.