First of all I want you guys to know that I did a
guest post
today about my health/fitness journey over at Leigh Anne's blog
Hart to Heart
:)
She's super awesome and I almost feel like we're the same person - we have so much in common! So you should for sure go check out that post and her sweet blog.
Tell her hello and that I sent you!
.
And here's the usual Wednesday link up - Oh, How Pinteresting with Michelle over at
The Vintage Apple
!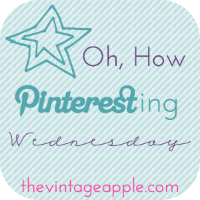 .
Not gonna lie - I didn't have too much extra time to spend pinning this week but here are my top 10 (maybe my only 10 haha!):
Skirt & braid - WANT!
This reminded me of The Color Run :)
Yes, please!
Hair, please.
Definitely gonna ask Adam to build a table like this someday!
Amen to that!
Rings, braids, okay..everything!
One of the coolest pictures I've seen!
A girl can dream...
Hope you have a super awesome Wednesday :)