Hello lovely readers :)
Today I want to share a guest post with you from one of my sponsors-
Check out the Find Some Love Fest link party - I can't wait!
And go show Allison's blog some love, obviously ;)
Grab a glass of milk (trust me, you'll thank me later) & get to reading!
In preparation for the Find Some Love Fest, I started experimenting with recipes!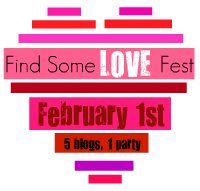 I have made these brownies before, but something about their shape made me love them even more!
Sinfully Rich Brownies
(from a box!)
source: Sweet Treats and More
Prep Time: 20 minutes
Bake: 325 degrees for 40 minutes
Cool: 5 minutes
Yield: 12 large brownies
Ingredients
1 family-size pkg brownie mix
double the number of eggs called for on box
Milk and or cream in place of water
2 cups semi sweet chocolate chips
Chopped pecans (optional)
Mix ingredients in the order listed (you still use the oil recipe calls for). Mixture will be thick.
Grease a 9X13 in pan well, then press brownie mixture into the pan. Bake for about 40 minutes.
Let brownies cool in pan, then cut in pan with a wet sharp knife or use cookie cutters of your choice!
***These will make a very thick brownie. I like to divide the mixture between a 9X13 and a 9X9. It makes a thinner brownie, and I get more out of the recipe.***