Happy Saturday :) I'm so excited to share 3 more of my lovely January sponsors with you guys!
Also - I'm still playing with the layout/size of my blog so excuse the appearance for the next few days.
AND since you guys are so awesome and I've reached 100 followers, I'm doing my first


Monday's post will be dedicated to officially announcing the details of that and of course introducing the new Smell the Roses task of the week :) I can't wait!




"Hi y'all! My name is Megan and I am the founder of Hearts Prepared Ministries! I am your Southern Belle from Alabama and I am a Mass Communications and Public Relations student at Auburn University Montgomery, and my ultimate goal is to end up working PR in NASCAR. I love the little things in life and I get such joy out of helping others. My passion in life is Jesus and I want to share Him with the world!! When God laid the desire of ministry on my heart I knew He was up to something. I soon found myself seeking Him on how I should go about Hearts Prepared. Then came the Hearts Prepared Blog! I have a passion for Jesus and I have a passion for speaking. I am in the process of starting my own ministry for women; young and old. On this blog you see many posts about daily life, outfits, etc. but the purpose of this blog is to be an inspirational and motivational, piece of my heart from me to you. I want to encourage women and I want to be a constant reminder that God has a plan for YOU and that you are NEVER alone! Remember; YOU are BEAUTIFUL!!"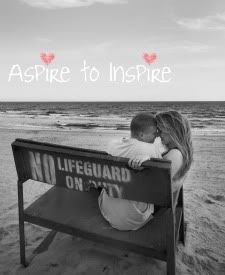 "My blog is all about inspiration-in home decor, cooking, writing, reading, love, etc. I eventually want to branch off with a nonprofit focused on getting books to high needs schools."
Last, but not least, meet Stephine from
Dear Silas
!
"Hey Lovely Little Things readers! This is a lovely blog, huh! Anyway, I'm a 21 year old mommy to 2 angels. I blog about suffering from the loss of my children, I live with anxiety and depression on a daily basis, but I'm trying to stay positive and get better. I'm also an Internet addict who is finally getting up off her bum and starting to exercise! I go to college online full time for a degree in Psychology. Can you tell I'm not too good at talking about myself? Come on over and stay awhile, you'll find something that interests you, I promise!"
And there you have them!
They are awesome - seriously drop by their blogs and show them a little bit of love!
You won't be sorry :)
I still have 2 sponsor spots left for February,
so if you're interest click on my sponsor tab :)